Academy
The Academy Squad 2014/15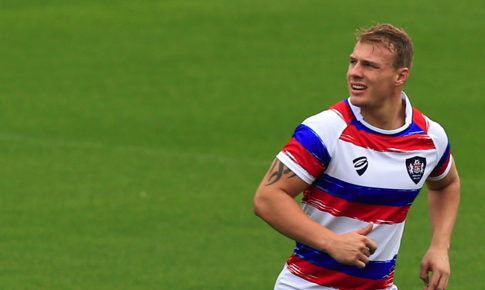 Mitch Eadie
Player information
| | |
| --- | --- |
| D.O.B. | 06th July 1992 |
| Height | 6'3'' |
| Weight | 105kg |
| Position | Flanker |
Mitch Eadie joined the Bristol Academy at the beginning of the 2011/12 season.
The homegrown flanker is a product of Filton College and has made over fifty first-team appearances for the Club, scoring in his first start against Worcester.
Eadie - who scooped the Osborne Clarke Player's Player award in 2013 - has represented Scotland at U18s and U20s level, featuring for his country in the 2012 IRB World Junior Championships in South Africa.
Follow Mitch on Twitter at @Mitcheadie6.
Sponsored by:
Player Stats
| Date | Opposition | Tries | Conv | DG | Pen | YC | RC | Pts | Mins |
| --- | --- | --- | --- | --- | --- | --- | --- | --- | --- |
| 27/05/15 | Worcester Warriors | 0 | 0 | 0 | 0 | 0 | 0 | 0 | 80 |
| 20/05/15 | Worcester Warriors | 1 | 0 | 0 | 0 | 0 | 0 | 5 | 80 |
| 02/05/15 | Rotherham Titans | 0 | 0 | 0 | 0 | 0 | 0 | 0 | 15 |
| 25/04/15 | Worcester Warriors | 0 | 0 | 0 | 0 | 0 | 0 | 0 | 72 |
| 17/04/15 | Jersey | 0 | 0 | 0 | 0 | 0 | 0 | 0 | 80 |
| 29/03/15 | Bedford Blues | 2 | 0 | 0 | 0 | 0 | 0 | 10 | 80 |
| 21/03/15 | Rotherham Titans | 1 | 0 | 0 | 0 | 0 | 0 | 5 | 80 |
| 14/03/15 | Doncaster Knights | 1 | 0 | 0 | 0 | 0 | 0 | 5 | 80 |
| 06/03/15 | Nottingham | 0 | 0 | 0 | 0 | 0 | 0 | 0 | 71 |
| 21/02/15 | Doncaster Knights | 0 | 0 | 0 | 0 | 0 | 0 | 0 | 80 |
| 15/02/15 | Moseley | 0 | 0 | 0 | 0 | 0 | 0 | 0 | 80 |
| 07/02/15 | London Scottish | 1 | 0 | 0 | 0 | 0 | 0 | 5 | 80 |
| 01/02/15 | Cornish Pirates | 1 | 0 | 0 | 0 | 0 | 0 | 5 | 80 |
| 18/01/15 | Yorkshire Carnegie | 2 | 0 | 0 | 0 | 0 | 0 | 10 | 80 |
| 10/01/15 | Jersey | 0 | 0 | 0 | 0 | 0 | 0 | 0 | 80 |
| 01/01/15 | Plymouth Albion | 1 | 0 | 0 | 0 | 0 | 0 | 5 | 40 |
| 26/12/14 | Bedford Blues | 0 | 0 | 0 | 0 | 1 | 0 | 0 | 70 |
| 13/12/14 | Connacht Eagles | 0 | 0 | 0 | 0 | 0 | 0 | 0 | 80 |
| 30/11/14 | Pontypridd | 0 | 0 | 0 | 0 | 0 | 0 | 0 | 31 |
| 23/11/14 | Rotherham Titans | 0 | 0 | 0 | 0 | 0 | 0 | 0 | 80 |
| 14/11/14 | Nottingham | 0 | 0 | 0 | 0 | 0 | 0 | 0 | 64 |
| 07/11/14 | Doncaster Knights | 0 | 0 | 0 | 0 | 0 | 0 | 0 | 22 |
| 25/10/14 | Pontypridd | 0 | 0 | 0 | 0 | 0 | 0 | 0 | 80 |
| 04/10/14 | Moseley | 0 | 0 | 0 | 0 | 0 | 0 | 0 | 80 |
| 26/09/14 | London Scottish | 0 | 0 | 0 | 0 | 0 | 0 | 0 | 55 |
| 21/09/14 | Cornish Pirates | 1 | 0 | 0 | 0 | 0 | 0 | 5 | 74 |
| 14/09/14 | Yorkshire Carnegie | 0 | 0 | 0 | 0 | 0 | 0 | 0 | 80 |
| 07/09/14 | Worcester Warriors | 0 | 0 | 0 | 0 | 0 | 0 | 0 | 80 |
| Total | Played 28 | 11 | 0 | 0 | 0 | 1 | 0 | 55 | 1958 |
Competition
Played
Tries
Conv
DG
Pen
YC
RC
Pts
2014-2015 Championship
24
11
0
0
0
1
0
55
2014-2015 B&I Cup
4
1
0
0
0
0
0
5
2014-2015 total appearances
28
11
0
0
0
1
0
60
2013-2014 Championship
24
6
0
0
0
0
0
30
2013-2014 B&I Cup
6
3
0
0
0
0
0
15
2013-2014 total appearances
30
9
0
0
0
0
0
45
2012-2013 Championship
19
3
0
0
0
1
0
15
2012-2013 B&I Cup
6
1
0
0
0
0
0
5
2012-2013 total appearances
25
4
0
0
0
1
0
30
2011-2012 Championship
2
0
0
0
0
0
0
0
2011-2012 B&I Cup
3
2
0
0
0
0
0
10
2011-2012 total appearances
5
2
0
0
0
0
0
10
2010-2011 Championship
1
1
0
0
0
0
0
5
2010-2011 B&I Cup
3
0
0
0
0
0
0
0
2010-2011 total appearances
4
1
0
0
0
0
0
5
Total Championship appearances
70
20
0
0
0
2
0
100
Total B&I Cup appearances
22
7
0
0
0
0
0
35
Total Bristol Rugby appearances
92
27
0
0
0
2
0
135